The logistics world would come to a standstill without the EPAL pallet.
EPAL pallets safely cross borders all over the world.
EPAL pallets guarantee smooth transport of goods.
EPAL pallets ensure stable storage of goods.
EPAL pallets ensure maximum occupational safety thanks to their high quality.
---
Boards: 13
Nails: 60
Blocks: 9
Length: 800 mm
Width: 1.200 mm
Height: 138 mm
---
1 Branded markings of the European Pallet Association e.V.
2 IPPC branded marking in accordance with the national plant protection rules (mandatory since 01/01/2010 for EPAL pallets)
3 Country code
4 Registration number of the responsible Plant Protection Authority
5 Method of treatment (heat treatment)
6 EPAL control staple (mandatory)
7 Repair marking nail (only present if the pallet is a repaired EPAL pallet)
8 CP type marking
9 Licence number – Year – Month
Compliance with the ISPM 15 standard is the most essential condition for the unrestricted use of load carriers in the international movement of goods. EPAL wooden load carriers are produced and repaired according to the strict IPPC (International Plant Protection Convention) standard and can therefore be used across borders.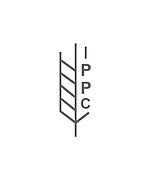 Since 01/01/2010, all newly produced EPAL Euro pallets are heat treated in accordance with ISPM 15.
EPAL Euro pallets treated according to ISPM 15 can be recognised by the branded markings on both central blocks on the long sides.
It is prohibited to treat EPAL Euro pallets with methyl bromide (MB).
These provisions also apply to repaired EPAL CP pallets.
Boards
EPAL CP-pallets decks and bottom boards must have a thickness of between 18 and 20 mm (stringers up to 22 and 24mm).
There must not be any wanes on the stringers.
Poplar wood is not permitted for stringers.
---
Nail position
The position of the 60 nails used is stipulated in order to guarantee the diagonal rigidity of the pallet.
The nail pattern must be even and repetitive.
In accordance with the construction standard, the nails must be positioned with the greatest possible distance between them and at least 20 mm from the edges of the components.
All nails used to construct EPAL Euro pallets bear a head marking comprising two letters.
Only those nails that have been approved by EPAL, and which have additionally been verified by a neutral testing institute, may be used to assemble EPAL Euro pallets.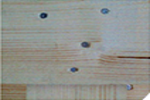 Deck board - stringer - central block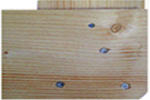 Deck board - stringer - corner block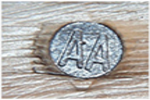 Nail head